I took part in NaNoWriMo, National Novel Writing Month, last November. Well, actually, I took part in spirit. Technically, I joined Nina Amir's NaNonFiWriMo – her November writing challenge dedicated to non-fiction writers as NaNoWriMo is more for writers who want to complete a fiction novel.  It's a great opportunity to be able to write in November with 1000s of other writers, while sharing in a community of non-fiction writers.  All this to say… I finished the first draft of my book! In November. Yes, yes! So now begins the fun of editing it.
I have let the first rough draft "simmer" the past few weeks, just letting it rest from all the brain dumping that I did in November. I have given it until mid-January before cracking it open. And now the time has come to dive in and start my revisions!  I'm very excited about this new project and will share as much as possible about it here on the blog.  My project of self-publishing a non-fiction book will unfold here, right before you eyes.
The decision to self-publish was very simple for me to make:  I want full control over what goes into my book and the timing for releasing it.  I will share my lessons learned (both good and bad) in case you might have some good stuff you are thinking about writing as well.
Oh, another thing! I won Nina Amir's book, The Author Training Manual, which I plan to study while working on revisions (especially Step #6: Decide If Your Book's Content Matches Your Initial Vision). Pretty exciting to win this book as I'm one of those people who never wins anything!  Thank you Nina!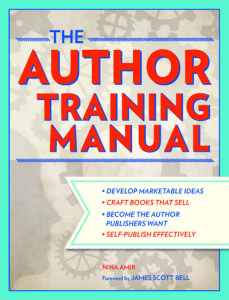 So there it is! I've laid out my project and I'm using my blog to hold myself accountable.  Yikes! What have I done? In my next post I'll share what I'm using as my project notebook to keep everything organized.
Have you self-published a non-fiction book before? I'd sure like to hear about it. Please share in the comments.